Manchester made single origin chocolate in the Press.
Observer
Telegraph
NATIONAL GEOGRAPHIC FOOD
We also featured in the 'Must try bars' list
I Love Manchester
Manchester Confidential
Independent
CHOCOLATE COUVERTURE | ALL ABOUT FINE CHOCOLATE BY CAT BLACK
CULINARY ADVENTURES OF THE COCOA NUT
DARK MATTERS CHOCOLATE REVIEWS
OLIVE MAGAZINE
November 2017 – Our gold AoC award-winning Guatemala milk featured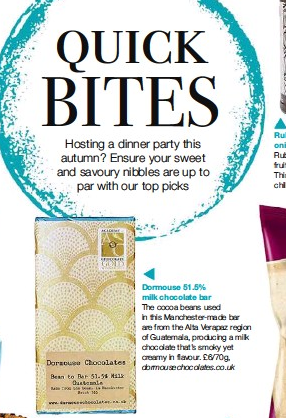 Books
We are extremely honoured to be featured in the Manchester chapter of the lovely Andrew Baker's A chocolate-lover's guide to Britain, a celebration of British makers who produce single origin/single estate chocolate and some very talented chocolatiers. Andrew came up to Manchester one rather soggy afternoon to see the shop, catch up and find out more about our story. It's a really lovely read and would make a great gift for any true chocolate lover.
111 Places in Manchester That You Shouldn't Miss by Julian Treuherz, Peter de Figueiredo highlights our shop as a place you need to visit. There are still relatively few places you can go and see and smell chocolate being made in the UK.